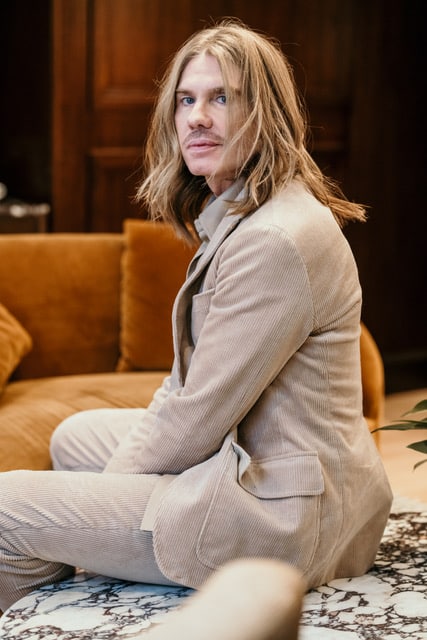 Like all hairdressers, Christophe-Nicolas Biot started out as an apprentice. He was lucky enough to learn his trade from a "meilleur ouvrier de France" in a leading Mulhouse salon. Propelled onto the stage at the age of 17 by the artistic direction of Wella France, he learned the importance of dexterity, precision and rapidity of gesture during shows.
Christophe Nicolas Biot is a world-renowned hairstylist, colorist and botanical expert. His work and creativity have earned him recognition from both the professional hairdressing community and his customers.
He creates hairdressing shows that he presents all over the world. He's also one of the world's leading experts in vegetable color. It's been his DNA since the beginning.
In recent years, it has developed a unique coloring and care protocol to meet the most demanding health and environmental requirements of its customers.
His approach is part of a sustainable relationship for the body and the planet. That's why he offers his own line of pigments in addition to Wella's 100% plant-based EOS colorants, as well as ranges of organic and 100% natural skincare products to complement the color.
He's a visionary in the world of hairdressing. Always ahead of a trend and listening to his customers, he becomes the translator of their desires and needs, both in the style and in the hair and cosmetics products he offers today.
"I knew I wanted to be a hairdresser one day when I accompanied my mother to get her hair done. I loved the atmosphere in the salon, the smell of hairspray, the closeness between the hairdressers and their customers... I was only 14 at the time!
Visionary hairstylist and cosmetics designer
Shortly after opening his Maison de Coiffure in the 6th arrondissement of Paris in 2010, he created the Minute bun bar. This innovative concept was an instant success.
In 2012, Christophe Nicolas Biot launched his first hair care products, still on sale today: shampoo powder, detox mask and radiance serum.
At the end of 2013, he launched Le Bar des Coloristes, a totally new concept halfway between mass-market hair coloring, without any professional advice, and salon services. It lets you buy and make your own professional, made-to-measure hair color at home, minus the cost of the service.
In 2014 he created hair products and accessories essential for creating chignons or ties worthy of a professional. A line of four combs, hair jewelry, hairspray and dry shampoo to extend the Bar à Chignon Minute experience.
In 2015, Christophe Nicolas Biot announced the opening of a "Detox Salon" at the heart of the Maison de coiffure. An original addition and a true continuity in the philosophy of this great professional. Still revolving around plants and never losing the chic, stylish touch of the Maison de Coiffure, many other fine projects are in the pipeline...
L'Atelier Biot saw the light of day in October 2016. It's a unique place entirely dedicated to natural hair care and plant-based coloring.
In September 2017, Christophe Nicolas Biot opened the Maison de Coiffure de Mulhouse right in the heart of his hometown. At the end of 2018, he expanded the space by opening a Beauty Studio on the first floor.
In September 2018, Maison de Coiffure Paris 6 reopens its doors after a month's work. A touch of modernity and added comfort for this timelessly charming space.
In early 2019, Christophe Nicolas Biot will open his individual, made-to-measure hairdressing cabin in the Spa Akasha at the Hôtel Lutétia in Paris.
In 2019, he opens a new Maison de Coiffure in the heart of the Village Royal in Paris 8 and launches the concept of the minute dry cut.
In 2020, Christophe Nicolas Biot opens two new Maisons de Coiffure, in Val d'Isère and Saint Tropez. At the same time, he innovates by creating Rep'Hair Color, the concept of color repair. During the same period, he invented "Ma Visio Color", the first video-conference color diagnosis service, including home delivery of products.
In September 2020, he launched the natural mixed line Mon Protocole for hair and scalp care. This hair care line features handcrafted, 100% natural and organically grown products. Based on essential oils, the line is handcrafted in the Charente region of France. At a depth of more than 160 meters, the spring water has been protected and has acquired its purity and lightness through natural filtration over more than 20,000 years, guaranteed nitrate-free. Mon Protocole is an eco-responsible line, guaranteed preservative-, sulfate-, paraben- and silicone-free, which cares for both the body and the environment. It is presented in an amber glass bottle with pump to preserve the purity of the active ingredients, like an apothecary's line.
In 2021 , Le Bon Marché Rive Gauche introduces Mon Protocole products. Christophe Nicolas Biot launches HOM' products to accompany the opening of the first plant-based barbershop in Paris. The Four Seasons Megève carries Christophe Nicolas Biot Paris brand products.
2022, Christophe-Nicolas Biot launches his Mon Protocole Visage et Corps line of mixed cosmetics, designed to meet the needs of both men and women. 100% natural and eco-responsible, Mon Protocole Visage et Corps is handcrafted. In February, the 10 products in the "by Biot" range are added to the Hair Room at Printemps Haussmann.
In 2023, his cabin at the Lutetia is transformed into a Private Cabin dedicated to hair care, while in Mulhouse, La Maison de Coiffure expands with a VIP hairdressing cabin and two new cabins reserved for face and body beauty. He becomes an ambassador for high-end hair accessories brand Ellen Wille, and develops a wig concept to democratize the service. The by Biot range is enriched with a new product, Protective and Repairing Shampoo for damaged hair. By the end of the year, his name was making a name for itself outside France, and he gave his first show in China and exported his cosmetics lines to Morocco.